x

19th century tycoon Cheong Fatt Tze was renowned for many things, his rags-to-riches story, business acumen, political ties and of course, his vision in building The Blue Mansion as his private residence, an oasis to escape to right in the bustling heart of George Town.
Nearly 120 years on, the restored mansion is an icon of the city. The details brought together by Cheong's eclectic and discerning eye and lovingly restored by heritage architect Laurence Loh still stand out today, as much as they did in the late 19th century.
In the past 100 years, the city has evolved, but at its core, the mansion has endured, providing its residents, guests and visitors with the unique opportunity to experience George Town's living heritage right from its beating heart.
It is with this guiding spirit that we have sought to curate a collection of townhouses by The Blue Mansion, each unique, yet united in providing an unparalleled heritage experience of George Town, Penang.  These are located in the heart of the city, which means that staying here, you can choose to truly live like a local – experiencing the sights, sounds and spirit of George Town.
Note: These town houses are located on Rope Walk/Jalan Pintal Tali, a 10 minute walk or 3 minute drive away from the Mansion.
Our Collection
Tjiong on Rope Walk

4 Adults, 1 Child

2 Bedrooms

2 Bathrooms
Meticulously restored, 100-year-old town house with upcycled timber elements and large living spaces including a dining area, courtyard and living room, plus two bedrooms located above street level. This is a double-storeyed town house with stairs to the bedroom level.
Our Collection
Zhang on Rope Walk

2 Adults, 2 Children

1 Bedroom

1 Bathroom
Restored 100-year-old townhouse with 10ft high traditional Chinese doors, original granite air well, hidden zen garden and spacious modern bathroom.
This is a double-storeyed town house with stairs to the second floor.
Checking In: Town Houses by The Blue Mansion
When you choose to stay with us, you're choosing an eclectic private residence in the heart of UNESCO heritage George Town. Here you will be self-sufficient in absolute privacy, with the option of full-service.
Enjoy the perks of The Blue Mansion – from complimentary guided tours of the mansion, to use of the pool and Oriental Garden, food and beverage discounts at The Bar, Indigo and Cafe Mangga and even co-signing at these venues.
On-call services such as concierge-arranged tours, breakfast delivery, housekeeping, transfers, laundry and more are at the mere touch of a button.
Venture into the living heritage of the city and absorb at your whim, or stay in and observe its sights, smells and sounds through hard wood shutters and lime-washed walls.
How much or how little contact you have with the outside world, is up to you.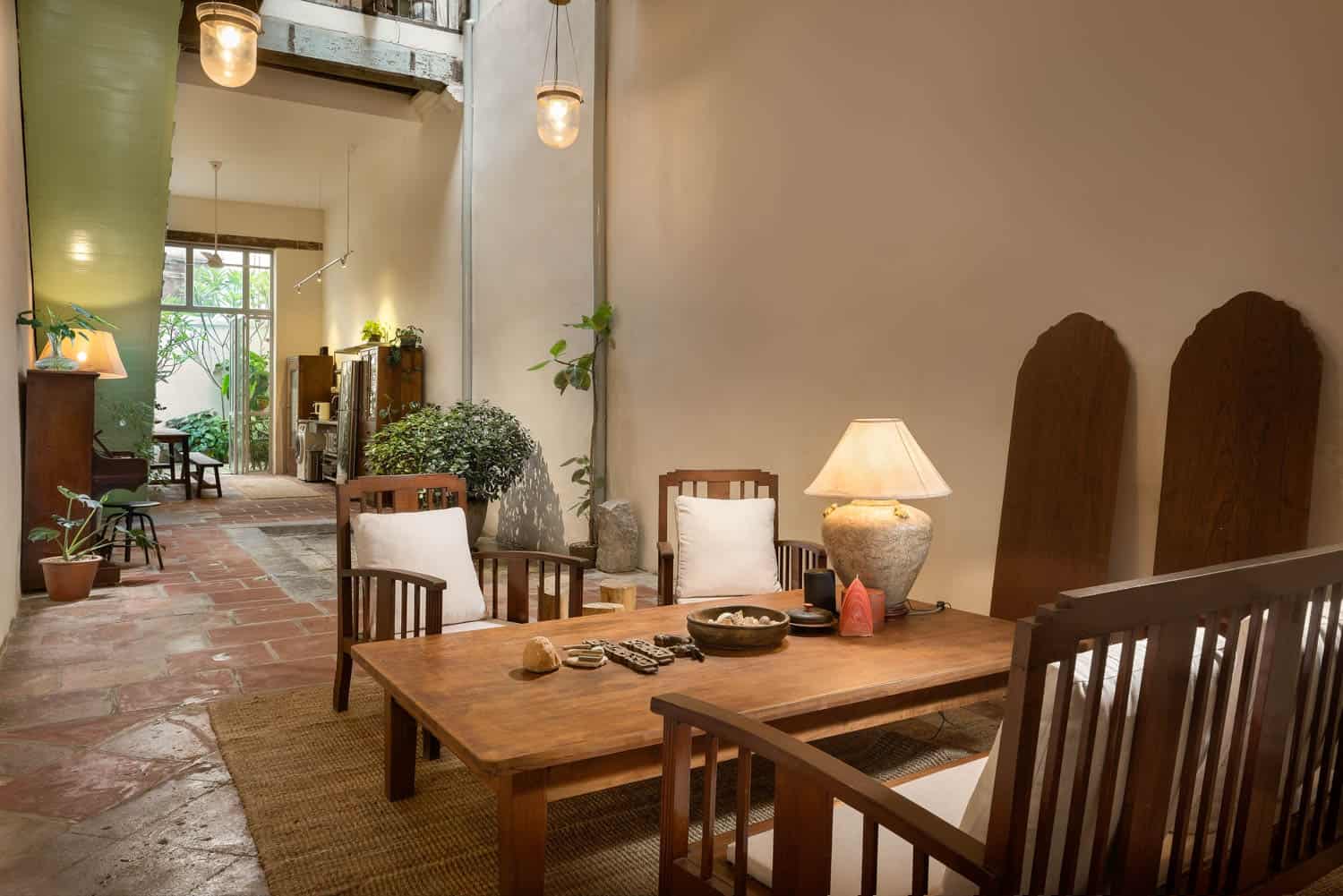 A Note on The Restoration
With each residence, the restoration approach has been conscious and respectful to not just the history of the house, but also the neighbourhood in which it stands. Care was taken to restore, repair and uncover original elements such as wooden beams, terracotta tiles and granite slabs. Working with local artisans and craftsmen, materials were reused and upcycled. In cases where they were unsalvageable, meticulous replacements were sourced.
Homeowners, Let's Work Together!
At Cheong Fatt Tze – The Blue Mansion, we manage your properties like a next-generation hotel. This is a new concept that is revolutionising short-term rentals and can improve the profitability of your property; freeing you from the constraints of day-to-day management of guests and assets, and the increasing regulation of the industry.
Let's chat! Email us at [email protected]
Location
58, Jalan Pintal Tali George Town 10100 George Town Pulau Pinang Malaysia
+60 4-262 0006