A stroll around The Blue Mansion reveals a deep mastery in the artistry and craftsmanship of the building.
With its roots dating 3,000 years back to the Su Chow dynasty, the Mansion embodies a confluence of Hakka and Teochew styles along with intrinsic Southern Chinese typologies and materials.
While monumentally traditional in design, The Blue Mansion also bears an eclectic architectural trait that exemplifies the 19th century era. It is at this time when the myths and magic of the Chinese Kingdom converge with the glory of the British Empire within the Malay world. The Blue Mansion also demonstrates both Cheong Fatt Tze's deepening fascination with Western artisanship and his rising stature as a Chinese official.
The Blue Mansion's mélange of diverse influences and motifs may appear incongruous at first, but a closer look unearths an arresting architectural mosaic of Scottish cast-iron balusters contrasted with Cantonese timber lattices; English Art Nouveau stained glass with Hokkien cut and paste porcelain Chien Nien works; and Chinese calligraphy against trompe l'oeil timber beams. It is in The Blue Mansion where you'll find various cultures and aesthetics coalesce gracefully and elegantly.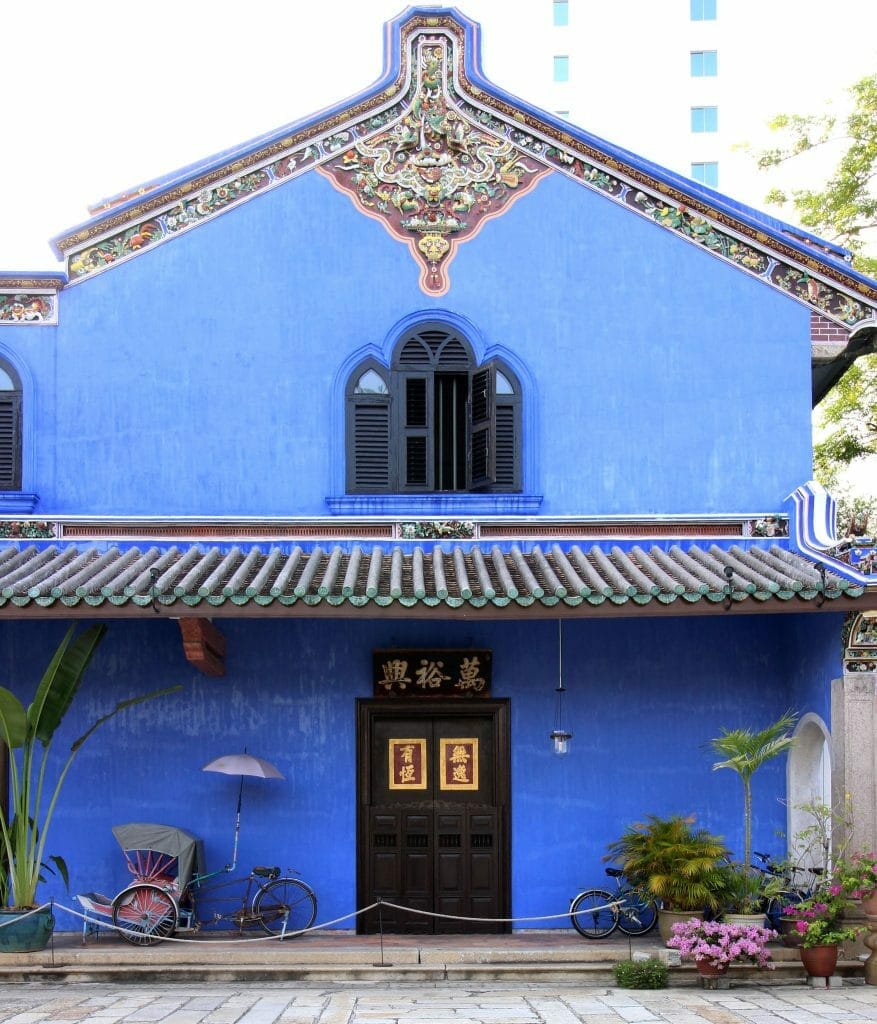 The Blue Mansion, which has its own sense of scale, proportion and space, can be divided into two main components: the main house, distinguished by the gables of the main roof, and two elegant side wings. Adorned with materials that typifies the fundamental feng shui elements of metal, timber, water, fire and earth, the main hall forms the structure's 'centre' – a motif common to Chinese residential buildings, from opulent palaces to humble countryside dwellings.
During its time, The Blue Mansion was a striking beauty that stood out from the modern Anglo-Indian abodes in the city. Today, it still stands as a paragon of the traditional Chinese courtyard mansion, crystallizing the harmonious blend of Chinese and Western architecture in Penang.