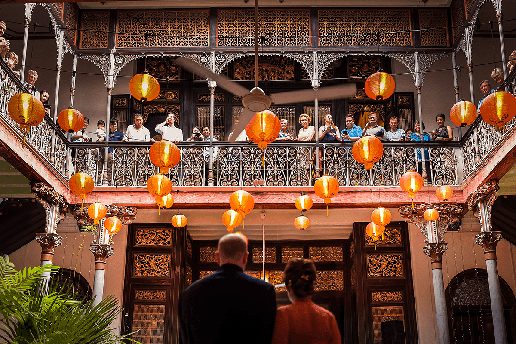 Create your very own historical moment.
From weddings to concerts, our team of planners will tailor the event of your dreams in George Town's most iconic mansion, ensuring it will remain the topic of conversation for generations to come.
Cheong Fatt Tze
Mansion
The Blue Mansion is available in its entirety for your use. From exclusive weddings to parties or corporate events, you will be kings and queens of the whole mansion.
With the capacity to house up to 38 persons in 18 rooms and events of up to 100 people in a space complete with kitchens, bedrooms, halls and courtyard, the whole of Cheong Fatt Tze Mansion can be yours for a truly spectacular and private event.
The Oriental
Water Garden
Make your event extra special by celebrating it in our lush, elegant garden filled with array of vibrant and fragrant flowers. This location is favoured for solemnizations, celebratory cocktail sessions and magical garden dinners.
Themed Dinners
at Indigo
With its unique marriage of East and West, not just in the interior but also in Chef's exquisite cuisine – at Indigo, we customize the menu and setup to your events.
Be it a contemporary wedding, a milestone birthday celebration, a corporate 'Thank You' dinner or even business meeting cum luncheon, we've got you covered.
Testimonials
Read what our previous customers had to say about their events that were held here.